The LifePath Unlimited Products & The Mirror Image System Are The One-Two Punch That Guarantees Results!
Leverage The Knowledge Of Documented Successful People To Actually Change Your Life In 90 Days!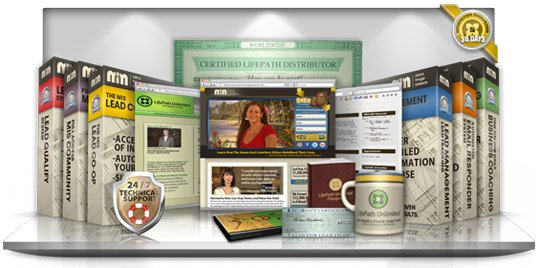 Proven Mirror Image Sales Funnel
Collecting leads just got a whole lot easier! With the Mirror Image System, you get our "proven-to-work" lead-pulling sales funnel. Perfect for warm and local market prospecting, the funnel does the work of sifting out the "Interested" from the "Just Looking"
$47 per month value - FREE with your membership

Professional Email Campaigns
No need to second guess the emails you send out. This high-converting autoresponder series is pure magic. It uses "know, like and trust emails" to develop strong relationships, and put prospects at ease with the MIrror Image System.
$1447 value – yours FREE

Unlimited Affiliate Income
As you build your business your Mirror Image System quickly pays for it self and then PAYS YOU! Make money by sharing your success story with others – each time YOUR referral becomes a member, YOU GET PAID!
$$

Client Management System
This fully-automated, modern-day manager sorts and tracks the history of your leads in real time. Tracking leads will be a breeze. Simply log in, and in a blink of an eye, you'll know the precise status of each lead, as well as the best leads to call. Automatically sorts, navigates and manages everything for you. A real time saver!
$47 monthly value – included with your membership

Capture Forms: Website Or Blog
Take your existing website and use it to market your business while allowing your leads to flow into our state of the art central lead management system and customizable autoresponder series.
$29.00 a month value!

Prospecting Training
Peek over the shoulder of leading 6 and 7-figure MIM members, as they share their secrets for success. They'll show you how to quickly build strong personal relationships with your prospects, using the latest and greatest "lead etiquette" tactics.
$199 value – included FREE

MIS Integrated Calendar
Struggle with time management? You get a time-management calendar that seamlessly lets your team stay on the same page. It's one of the simplest ways to connect, schedule, and host team events.
$35 value – FREE with your membership

24-7 Global Access
With MIM, you have the freedom and flexibility to conduct business from ANYWHERE in the world. As long as there's Internet or mobile phone access, communication is instant. You can literally live and work anyplace you prefer. Florida, Hawaii, Fiji, Thailand; the possibilities are endless!
PRICELESS

iPhone / Smart Phone Compatible
We don`t cut corners for our entrepreneurs! The Mirror Image System was built with mobility in mind. We've built a state-of-the-art system using up-to-date technology and the latest mobile features, so you can always enjoy the portable lifestyle that you so richly deserve.
$27 value – FREE with your membership

Lead Abundance Co-Op
Get a constant stream of "exclusive" leads delivered to your inbox, without lifting a finger. Our marketing experts bring in quality leads by the boatload. And, you simply buy the leads you need. You'll even get paid when they upgrade. It's quick, easy, and profitable!
$1699 value!! – FREE with your membership

Powerful Money-Making Strategies
All the tools, techniques, tips and training you need to successfully start, grow and profit from your new business. Developed by world leaders in the industry, the powerful modules in the LifePath University take you from a beginner all the way to a world-class network business builder.
PRICELESS

Daily Fresh-Start Call With Joe Neid
World renowned business leader Joe Neid reveals the MOST POWERFUL income generating strategies. Tune in for live community advice, every morning, Monday thru Friday. This call is guaranteed to keep you focused as it kick-starts your day.
$28 per month value

The Ultimate Close Training
Sales master Dave MacKenzie, reveals his breakthrough discovery of selling to "Personality Types Instead of Humans". You'll watch and learn, as this true "master of the close" teaches you to pinpoint a personality type by asking ONE simple question. And, how to close that person based on his or her answer.
$97 ADDED BONUS
Network Marketers 4 Hour Work Week
Ready to work less and earn more? Expert business coach Dave Mackenzie reveals the structure of the "Perfect Business". Discover how to set up FIVE automated systems to do all the grunt work for you. End result; this incredible system lets you whittle down to a FOUR hour work week,
$49 ADDED BONUS